After the stress of my first year of law school finally settled, I had the incredible opportunity to travel to Rome, Italy this summer to study in the Summer in Rome program. I studied at Temple for my undergraduate degree and had always been interested in the summer program, but always had conflicting internships or summer plans that prevented attending. I knew this was probably one of my last chances to study abroad and spend over a month in Europe.
One of my biggest concerns was whether I would be able to find a summer internship that would accommodate this program, and obviously the cost of attending. I was lucky enough to find both a judicial internship with a judge who was supportive of my plan and accommodating of my later start date, as well as a scholarship to study in the Rome Program. Temple was extremely accommodating and helpful to students in making the accommodations they needed to get as much out of their summer as they could.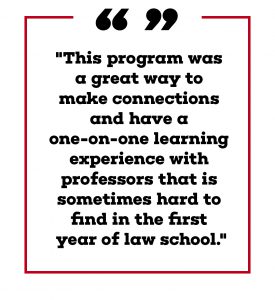 In Rome, I studied International Dispute Resolution and International Literary Perspectives, specifically literature and the concept of justice and how it impacts the legal system. In both of these classes, we were immersed in studying culture, media, communication and history and how each affects legal systems and law around the world. Without much prior international legal experience, it was a great introduction to our global legal system and how international law impacts every practice area of law, both in the United States and outside.
All students enrolled in the Rome program also took part in a one-credit seminar, exploring international law and global legal perspectives. This class included guest speakers who spoke on a wide variety of topics, from the European Union, to international commercial contracts and immigration within Europe. The class also had visits to the United Nations Food and Agriculture Organization, an Italian law firm to discuss differences in the training, work and structure of firms in Italy compared to the U.S., and cultural site visits to the Forum and Fosse (a World War II memorial). This was a great way to see and learn hands-on about the legal system in Europe and Italy specifically, see historical sites, and better understand the culture. The classes in the Rome program were broad enough that any student, focused in litigation, transactions, international law, family law, criminal law and many other areas could be interested and gain a new perspective in their career. I am more interested in pursuing international arbitration after studying in this program!
This program was a great way to make connections and have a one-on-one learning experience with professors that is sometimes hard to find in the first year of law school. Because the program was small, the professors took time to get to know everyone and give advice in figuring out their career plans. It was also a great way to get in-depth feedback about writing, analysis and understanding of concepts.
The cultural experience was by-far the best part of the trip for me. Having never traveled abroad alone before, this was a great way to travel, experience a different lifestyle and study without feeling completely alone in a foreign place – the program was small and intimate and allowed for you to get to know and spend time with everyone. During the weekends, I traveled to London, Paris, and Sardinia, Italy. I loved having enough time to experience different countries, languages, and food during my weekend trips. The program was structured to allow everyone time to see Europe and travel as much – or as little – as they wanted. As a foodie, I was never disappointed in Rome. The city was beautiful, fun, adventurous and manageable. I am already planning my next trip to Europe!
My trip was equal parts exciting, adventurous and challenging to me and I highly suggest it to anyone even slightly interested in studying abroad. It was a short enough program to allow students to travel and still have a full summer internship; it also allows you to travel for an extended period without committing to three or four months from home – it is the perfect amount of time to be away. Not speaking the language was a huge challenge to me at first – I often had to guess where I was going in the streets of Rome and try to communicate with the basic words I learned online. As someone who likes control and planning, this was challenging and stressful to me. However, I think letting go of control and going with the flow helped me grow both as an individual and will help me in my career – teaching me that sometimes things do not go as planned and its okay to make new plans as you go.
I am so thankful for the cultural, academic and career-building experiences I had in Rome. I can't wait to share with all of my friends the amazing experience I had in Europe and advocate the benefits of studying abroad in law school to Temple students in the future!